Georgia Vanity Plate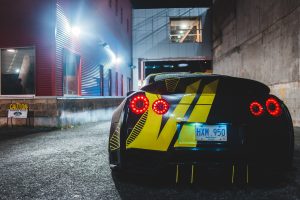 Are you a Georgia driver looking for a fun way to express yourself? When you desire to add vanity placards to your vehicle, also known as "prestige plates" or "prestige tags" in Georgia, you can do so. Learn how to get a customized license placard in Georgia. Follow the steps below, as the article reveals detailed information on GA Vanity Plates.
What Steps Do You Have To Take?
First, if your automobile, motorcycle, truck, or trailer has not yet been registered, you must do so. Those registering for the first time may be required to do it in person at a County Tag Office. Secondly, provide proof of ownership, insurance, inspection, and residency, as well as a valid driver's license.
If you do not have a Georgia driver's license and want to learn details on this very topic, then go by the link and read everything.
After this, you are to think of up to three options. Your next step is to obtain an MV-9B form from a local DMV office. You have the chance to download and print the form as well. The latter is an application form. Try to read all instructions before filling it out to avoid any issues.
Fill in the blanks with all of the essential information. It contains your name, address, phone number, and county of residence. Fill out the form with your three options. Check whether you are ordering that for a car or a motorcycle.
You need to write down what each request means in the box next to it. Place your preferences in order. Start with the one you desire the most, as you will probably have the first available entry.
Complete the application and sign it. Include your driver's license number as well. But be sure you write the correct numerals. After that, send it via mail or bring it to the County tag office in person.
Charges must be paid with a check or money order. Make checks payable to the Tax Commissioner's Office. The cost of a personalized plate is separate from the cost of regular registration.
A $35 one-time manufacturing fee has to be included.
How long does it take?
The time duration is not fixed. It usually takes between one and three weeks until your tag arrives.
Number of Characters
On a passenger car, mobile home, or non-commercial trailer, personalized plates may have up to 7 characters. It refers to letters and numerals. Motorcycle placards may have up to six characters. The total of characters permitted includes spaces.
Vanity placards may be subject to an annual cost. You must submit a separate application for each vehicle for which you want a vanity tag.
Tips to Know
When making a placard, avoid using symbols like commas, dashes, or exclamation marks. You should not use symbols. Requests involving the use of a registered trademark must include written permission. If not, the request will not be acceptable.
Renewal
You can use DRIVES e-Services to renew them. You should receive a renewal reminder at the start of your registration month. If you have not received the notice, please contact your county office. You can also sign up for Go Green to get reminders through email.
Have your Georgia driver's license or ID card updated if your address has changed. Then, utilizing DRIVES e-Services, you can alter your address on your registration.
Important Note For You To Remember
The law-enforced regulation bans the use of particular types. Manufacturing and displaying combinations that fall into specific categories is prohibited. Any obscene combination of letters or digits, any reference to sexual actions, or reference to body parts will be considered a violation.
According to current societal norms, the following category refers to waste or bodily fluids. Any letter or numeral that offends a religious belief or individual, race, ethnicity, gender, or sexual orientation may be an issue.
Unless the candidate possesses that job, the combination of letters or numbers that indicate a position does not match the rules. Employment as a fireman, emergency medical technician, paramedic, or first responder is an example.
There are some combinations like FBI, GOV, GBI, or GSP that will be rejected immediately. Use no profanity, vulgarity, or slanderous language. In Georgia, any request that is insulting or disparaging will be denied. The Requests that are identical to existing ones will be turned down as well.