Louisiana Custom License Plate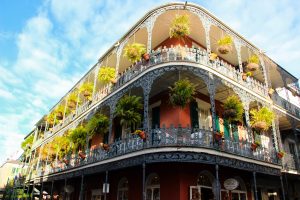 Overview
When you buy a car the next step is to register it and after that get the license plate. You can have a standard one or make your own personalized one. This allows you to choose your unique message which fits you or your car, send a message to the world, or make you have fun. You are free in your choices as long as it fits the state's law. In Louisiana, the application process has 2 parts: application and payment process. You should complete each of them to finally get the plate. Make sure to read the article to know all the steps for a Louisiana custom license plate.
Louisiana Custom License Plate
Do you live in Louisiana, have a car, and want to add something unique to it? Then you need to order a Louisiana custom license plate. And for that, you are in the right place.
In itself, the process is quite simple. However, there is a difficult part and it is to choose the right unique message that fits you and your car. Also, let's not forget about the laws to comply with.
There are some types of plates that you can obtain and one of them is personalized. This type allows you to choose your own form and massage. And this is also a topic for this article as here you will know how to apply and have your dream tag in Louisiana.
This process has 2 parts: application and payments. Continue reading to get all the info.
Part 1: Custom License Plate Application Process
Visit the OMV (Motor Vehicles Office) website
The webpage is for guiding through the choosing and ordering procedure. So, just feel free to follow all the steps on this website. Also, here you may find the state's regulations.
Come up with a good idea
Your combination must have 7 characters, which include digits, spaces, and letters. Also, it should have a special meaning for you or something that makes you laugh. Something that may send a message to the world or just make you cool. For example, it can be "TACOTUE" or "LV4MOM".
Here are some rules that you should know.
You must fit the combination in 6 symbols in case you own a motorcycle.
It should consist of a minimum of two letters. Also, there can't be equal letters and numbers, for example, three letters and three numbers or the opposite.
You are only allowed to use hyphens and periods, and each counts as a single character.
It will be rejected if it substitutes the "0" number for the "O" letter or the "1" for the "I".
Check if your message is available
This is what you need to do first in this process. The serving basis here is FCFS (1st come, 1st serve). This means that if the statement isn't available, you cannot use it too. Here are some tips to keep in mind.
Try to think about as many ideas as you can. So, if your idea belongs to someone, you can easily pass to the next one. For instance, if the "TACOTUE" isn't active, you may pass to the "FUNFRI8" which is equal to that one.
Even though a personalized tag was judged accessible, this doesn't rule out the possibility that someone with an identical request could be. Your order will be denied if this occurs, and you must choose a new statement.
Complete the form of the application
After you find and select the combination that you want, it is time to order it and for that, the website redirects to the window where you finish the request and fill out the application.
You have to provide some docs such as VIN (vehicle ident. number), also info about the car, for example, the manufacturing year, body, model, and make. In addition to this, you must provide the numbers of your driver's license and the current mark.
Your customized tag request is retained for a maximum of 14 days after you submit it. This allows the OMV to have enough time to prepare your request and collect payment from you.
Part 2: Processing the payment.
Find the email the OMV sends you containing payment requests
If the board accepts your application, you should receive the email of the bill including the address where you must send the check. Once you submit the application, you will get it in the next 1-2 days.
In case you didn't receive it in a week, try to contact the board.
The fee is $25.00, plus the Louisiana state ordinary registration costs. Based on your location and car, this registration cost might be rather expensive. You also pay an additional $11.50 as administrative costs.
When the time of renewal comes, for a customized license plate, you'll need to give an additional $25.00.
Submit the fees ASAP
First, you need to pay the fees and after that, the board will process your request. Now there are only two acceptable ways to make it: money orders and checks. Just ensure that you include the number of driving licenses on the checks.
Wait 10-12 weeks to get your personalized tag
Once the board obtains your check, you receive the email informing you that your order is ready. This procedure takes some time, so you need patience.
If in 10-12 weeks the tag didn't reach you, try to call or email the OMV.
In case you already have a standard one, the new customized will just arrive by mail at the address that you mentioned in the application.
But if your plate is personalized, then you need to return it to the board after receiving the new one.