PA Custom Plates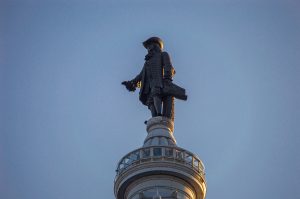 Overview
If you are a resident of Pennsylvania and want a car then you are in the right place. Buying a car is a very pleasant experience. However, you also have some steps to do in order to be able to drive legally.
But this process isn't less pleasant, here you need to register and then choose the PA custom plates. The DOT in PA offers a lot of types and designs, in addition, you can choose your own message or support a charity fund with your tag.
If you are interested make sure to read the article and get all the info you need about the application process and more.
PA Custom Plates
This state offers several special plate types from which you can get the one that you want and need. Types include personalized, charitable, collegiate tags, and so on. In addition, you are able to obtain a tag for your organization.
Continue reading the article and you will know about the PA custom plates' fees, requirements and application process for each.
Vanity Plates
The DOT(Transportation Department) in Pennsylvania gives you an opportunity to get a tag with the letters and numbers combinations of your choice.
A personalized number must have:
a maximum of 7 symbols (including digits and letters);
either space or a hyphen (they are not separate characters).
However, it cannot include:
special elements;
either offensive or profanity language.
Anyway, there can be cases that you request a number but as it is taken (your request will be denied). To prevent this be sure to check the availability on the website of PennDOT.
You are going to pay $85 in addition to the general registration payments for the car.
Fund Special Plates
If you are a part of such an organization or just want to support them, the Pennsylvania state is best for you. It offers tags for the funds.
These usually have unique designs and backgrounds or a little image that represent the fund on the ordinary background.
Here are the fees that you need to pay:
Conservation Fund for Wild Otters – $38
Zoological Council on Pennsylvania – $57
PreserveOurHeritage – $57
HonoringOurVeterans – $38
Monuments in PA tag – $57
Except for the third one all others needs an additional price to be also personalized.
However, remember that these are only for the tags. This means that you also must pay the registration costs.
Organizational Numberplates
In this state, you will find a lot of organizational tags which are sponsored by that organization.
Generally, they have a standard background like the others in PA. Yet, in addition, there are also its name and emblem of it.
Below you can find all the institutions that have their tags:
Universities and colleges, such as:
Pittsburgh University
Virginia Polytechnical Institute
Special groups, for example:
Pennsylvania Choose Life
Conservancy of Appalachian Trail
Youth companies, such as:
Program of 4H Youth
The USA Girl Scouts
Service companies, like:
The Shriners
The Clubs of Lions
Veterans' communities, for instance:
Foreign Wars Veterans
The Association of 82nd Division
Professional companies and professions, such as:
Company of Avondale Fire
Association of PA Nurses
In order to get the full list go to the official website.
Prices are determined by the institution that finances the tag and is accessible from them. Additional payments are levied in addition to the basic fee. In most circumstances, you need to visit the institution.
NOTE: To be able to order this tag type you have to have a membership of that organization.
Military Numberplate in PA
These ones you are eligible to have if you have a membership in the military or you are a veteran.
In order to prove and be qualified for this, you need to provide evidence of membership or the award matching the desired plate. Anyway, this also should include:
papers of discharge;
ID of military.
Military tags come in a variety of styles, including those that represent:
Veterans (standard);
Branches;
Conflicts;
Honors and medals.
In order to have a full list of these tags make sure to visit the DOT website.
The prices for military number plates are different. Here are some:
$11 for the Ex-Pow (plus $56 for a custom one0;
$23 for Army Veteran (also for personalized plus $112).
Go to the DOT online platform for the list of payments.
Historic Numberplates
For the historical car, there are various tags available in this state:
The Antique Vehicle- for the cars that are:
25-year old or older (based on manufacture year);
near to the original condition and design, through restoration or maintenance.
The Classic Car- for the automobiles that:
keep the most part of the original condition and appearance;
were built a minimum of 15-year ago, starting from the year of application.
The vintage Vehicle tag is:
an actual Pennsylvania numberplate issued in the year the car was produced (These tags are not issued by PennDOT.);
for machines that are made during the 1906-1976 years.
Fees for historical are different:
Classic or antique- $84 (for personalization plus $112)
Vintage:
Registration is $84.
Application cost is an additional $81.